To rev up for the centenial Indy 500 race this weekend, I spent time with a real motor racing fan, Don Bowden.  I've known Don for over a decade, since I joined Intel.  He's a legend corporate demo god who has gone on stage with top execs to show and explain new technologies in front of thousands of people.
He's been a member of iRacing.com for years and even works with the simulated multi-player game owners to sponsor events and to use iRacing at Intel events like CES and even on technology breakthrough demonstrations like the recent future tech demo of 3D 22-nanometer transistor processors by Intel.
I spent an afternoon with Don to learn about why he loves iRacing and to take it for a spin myself — wow!  I shot and produced this video, which gives a good sense for the control, authentisity and thrill of the iRacing.com experience.  Below is a short post that leads to the story I wrote for Intel Free Press, which features an interview with iRacing.com, insights into the tech behind the simulation and why iRacing is critical to the future of motor sports fans.  Follow iRacing on Twitter during the Indy 500 and future races.
Via Scoop.it – Intel Free Press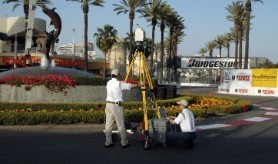 Ladies and gentleman, start your engines. But first turn on your computers!
Show original