See on Scoop.it – Intel Free Press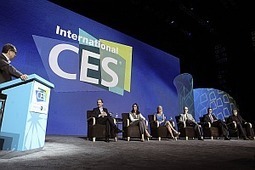 Technology analysts predict convergence of smartphones, tablets and touchscreen computers will capture attention at CES 2013.
kenekaplan's insight:
Rob Enderle, principal analyst at Enderle Group, anticipates attention at CES 2013 will center on two points of conflict. "You've got the 7-inch tablet and the 4-inch smartphone that are starting to ram together on the one end and we've got the 13.3-inch notebook and the 11.6-inch tablet ramming together on the other end," he said.
This year, convergence will really happen with notebooks and tablets, said Enderle. "A lot of people are arguing that you can get one device that can do both things," he said, referring to new Ultrabook computers that convert into tablets.
John Jackson, vice president at IDC, expects to see the halls of CES full of what he calls conver
gence experiments. "Convertibles beg the question of the extent to which tablets will remain a distinct or discretely identifiable category over time or whether or not they're just a logical evolution of the PC," he said.
See on www.intelfreepress.com
Related articles